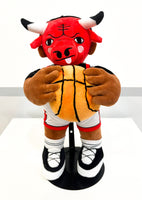 "Chicago Bulls Plush Figure" by Sentrock
Designed by Sentrock 
Official Collaboration with the Chicago Bulls 
$75
13" Tall 
Plush toy 
For more from this artist click here
For inquiries on this piece, please contact hello@allstarpresschicago.com 
Click Here
"Negrozilla" by Esteban Whiteside
Designed by Esteban Whiteside
$325.00
22" x 30" 
Edition of 35      
12 Color Screen Print on 160 lb. Mohawk Superfine Ultra White
Hand Deckled Edges   
Embossed, Signed, and Editioned by Artist
Comes with Certificate of Authentication
Printed by Fugscreens Studios
All Star Press Exclusive Release 
For more information on this product, please contact us at hello@allstarpresschicago.com.
Click here for Framing Options.
To view more work by this artist, click here. 
Add to Cart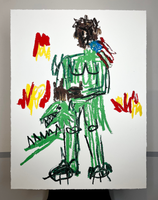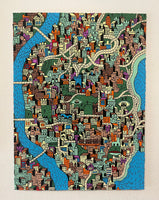 "Living City" by Nate Otto
Designed by Nate Otto 
$125
18" x 24" 
11 color screen print on 160 lb. Mohawk Superfine Ultra White
Hand Deckled edges 
Edition of 45 
For more from the artist click here
For any questions on this product please contact hello@allstarpresschicago.com 
Add To Cart
Breaking the Bank: Solo Show by E.LEE & Friends
ART OF THE GAME OVERTIME: OFFICIALLY LICENSED CHICAGO BULLS EXHIBITION
ALL STAR PRESS JERSEY SERIES