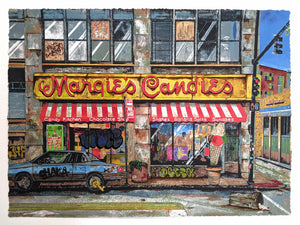 Designed by PizzaInTheRain
$500.00
22" x 30" 
Edition of 35

Acrylic Paint on 23 Color Screen Print
160 lb. Mohawk Superfine Ultra White
Hand Deckled Edges
Printed by Fugscreens Studios
A Naturally Beautiful Exclusive
For more information on this product, please contact us at hello@allstarpresschicago.com.
Click here for Framing Options.
To view more work by this artist, click here.