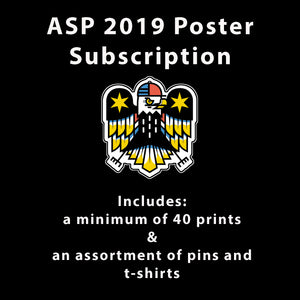 By All Star Press & Fugscreens Studios
The ASP 2019 Poster Subscription includes everything printed in house by Fugscreens Studios, with a guarantee of 40 prints over the 2019 year! The Subscription also includes 1 of each pin and shirt that is released through All Star Press. The subscription will be shipped to you once ever 6 months.
*Excludes limited edition prints for ASP Gallery Openings and Print Club Releases*
To guarantee your subscription, a $500 non refundable down payment is required, please email us at hello@allstarpresschicago.com to set up your payment plan. The remaining balance can be paid in installments over the year.
Only 5 Limited Edition Subscriptions available!
 For more information please send us an email at hello@allstarpresschicago.com.
 Click here to view more work by ASP & Fugscreens Studios.