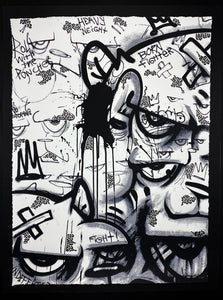 Hand Embellished by Lefty Out There
Print designed by JC Rivera
$2,000.00

22" x 30"
6 Color Screenprint with Ink Hand Embellishments on 160 lb. Mohawk Superfine Ultra White with Hand Deckled Edges 
Each print is individually unique.
"Reimagined" Exclusive 
Printed by Fugscreens Studios.
For more information on this product, please contact us at hello@allstarpresschicago.com
Click Here for Framing Options.
To view more work by JC Rivera click here.

To view more work by Lefty Out There click here.